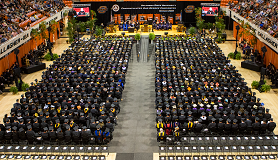 Advisers, Departments and Faculty
Additional Resources
We have answers to frequently asked questions on a variety of topics, including enrollment/registration, graduation and commencement, incomplete grade policies, thesis/dissertation grade policy, transcripts and academic records, tuition and fee adjustments, veteran services, and military leave of absence/withdrawals.
The Family Educational Rights and Privacy Act (FERPA) provides student the right to inspect their education records and protects the privacy of these records. This website provides general information about FERPA, answers to frequently asked questions, and a tutorial for OSU faculty and staff.
Access a variety of forms on this page, including those related to student information changes, access to student records, degree or enrollment verification, enrollment, tuition and fee waivers/adjustments, graduation, petitions, and course management.